There has been yet another switch of task managers for me.
I used OmniFocus again for over a year after switching to Todoist and was quite happy. But FOMO crept in watching all the productivity junkies on YouTube talk about their Todoist workflows.
I gave Todoist a shot again, paying up for Premium. I used it for a couple months but never looked at it; the tasks were growing and I was becoming overwhelmed. The interface didn't help the overwhelming sense of dread I got looking at the app. I would check things off just to get karma which isn't a good place to be.
FOMO Once Again
The newest1 entrant to this space is Things 3. I heard about it on several podcasts, read articles, and watched some videos on it as well.
I decided after a lot of research to give Things 3 a go. And I haven't been disappointed.
Design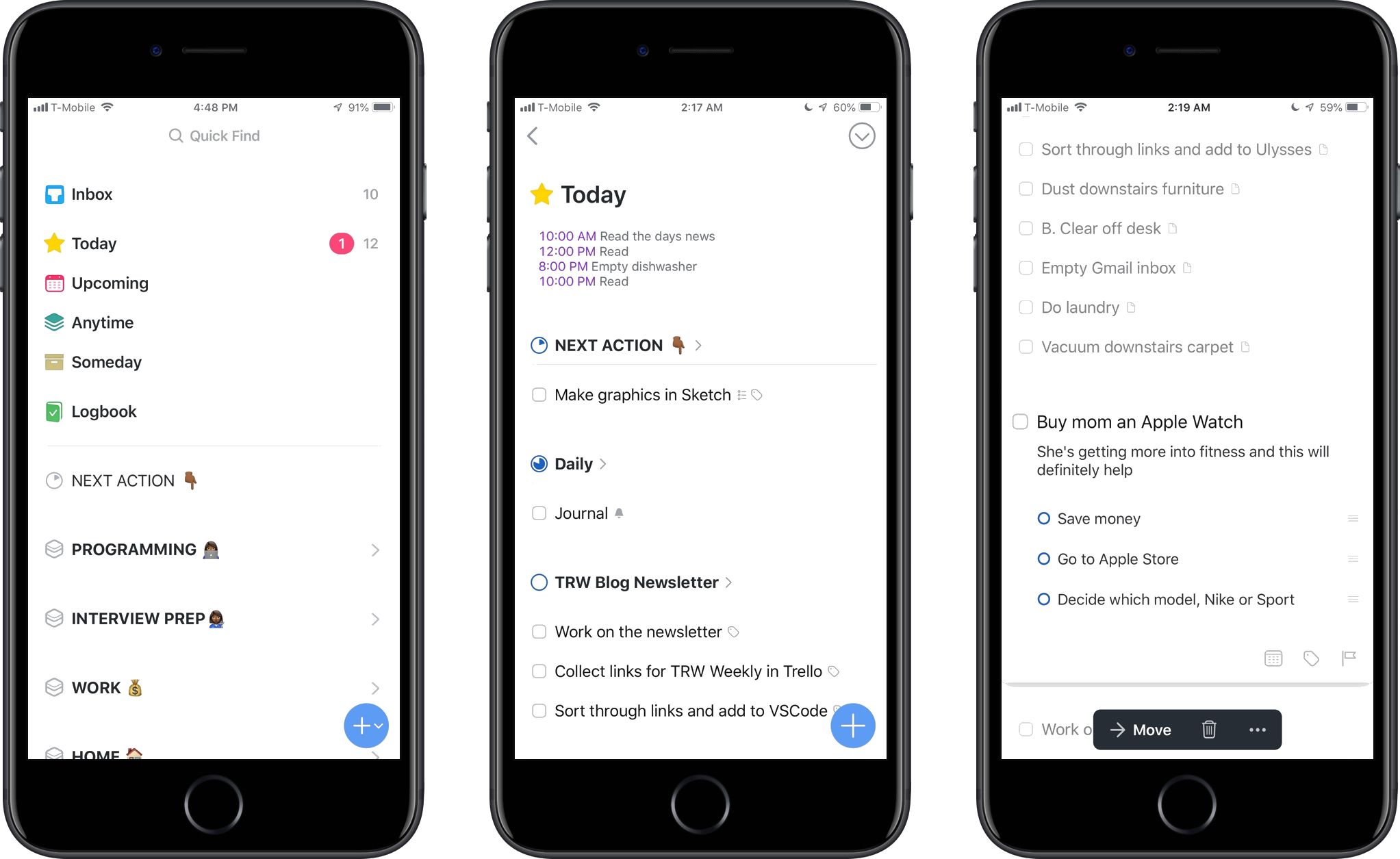 The main two sections in Things are Inbox and Today. This is where I spend most of my time. I add things to the Inbox by way of Drafts or by dragging and dropping the + button onto the inbox:
Upcoming, Anytime, and Calendar Integration
One of the nice things about Things2 is the Anytime and Upcoming screens. With the calendar integration, you can see what's happening and when you should schedule a task all in one screen.
Anytime is for non-critical tasks that you want to get done. There is also a Someday section and it is difficult to determine where to put a non-critical task in this regard but I tend to use Someday for wishes and goals and Anytime for tasks I want to do but don't have time to.
The Search Feature Shows Off Cultured Code's Eye for Clean UX
A quick swipe down and hold from the top brings up the search icon and dialog, with a nice bit of haptic feedback to let you know when you've pulled down enough. Design details like this seem basic but are critical to ease of use and stellar UX that not many developers can pull off.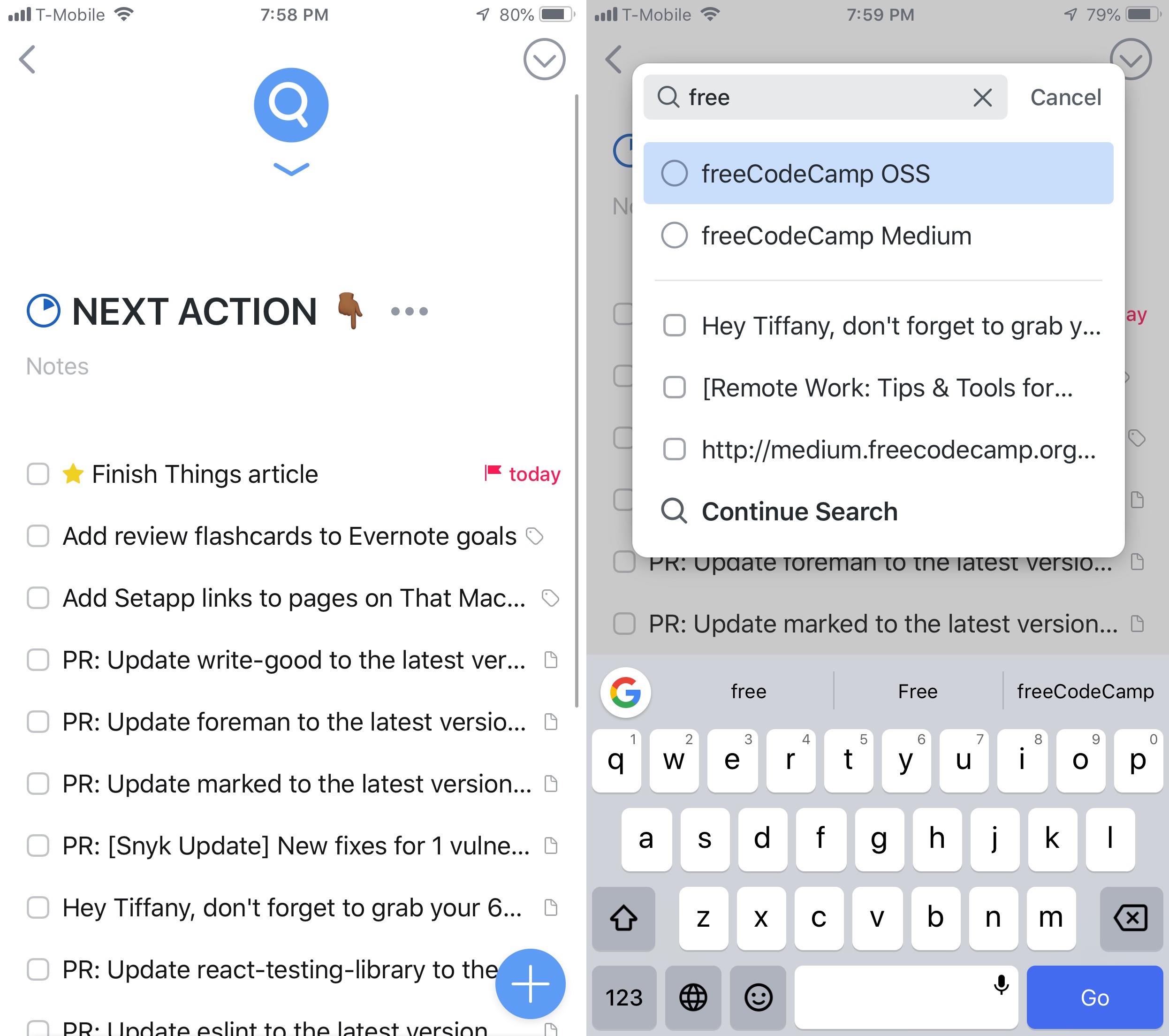 The Mac App
The Mac app looks just like it's iOS counterparts.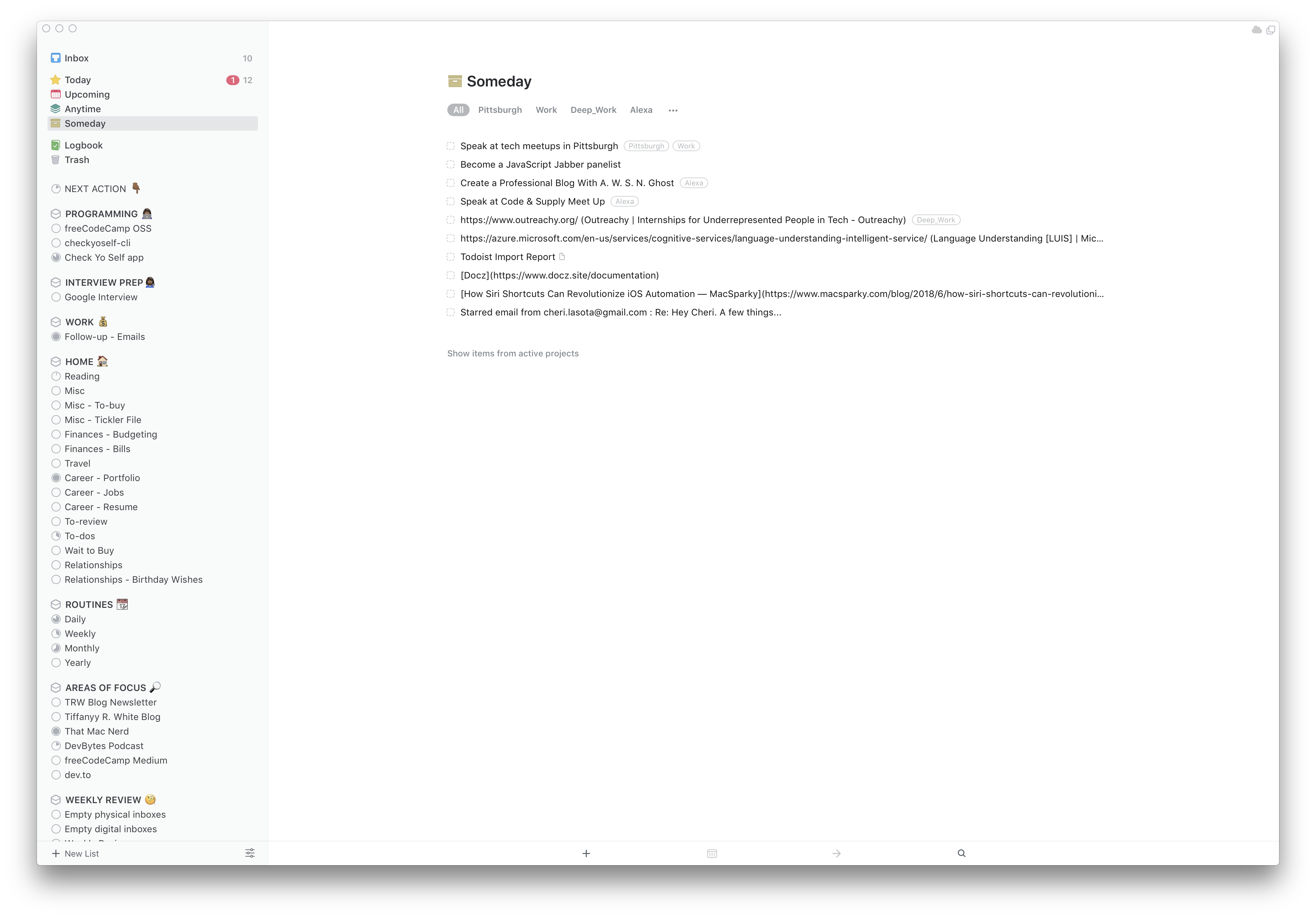 One of the nice features about the Mac app is the multiple window feature. This is handy if you have a couple different projects you're working on and want to get a roundabout view of them at a glance.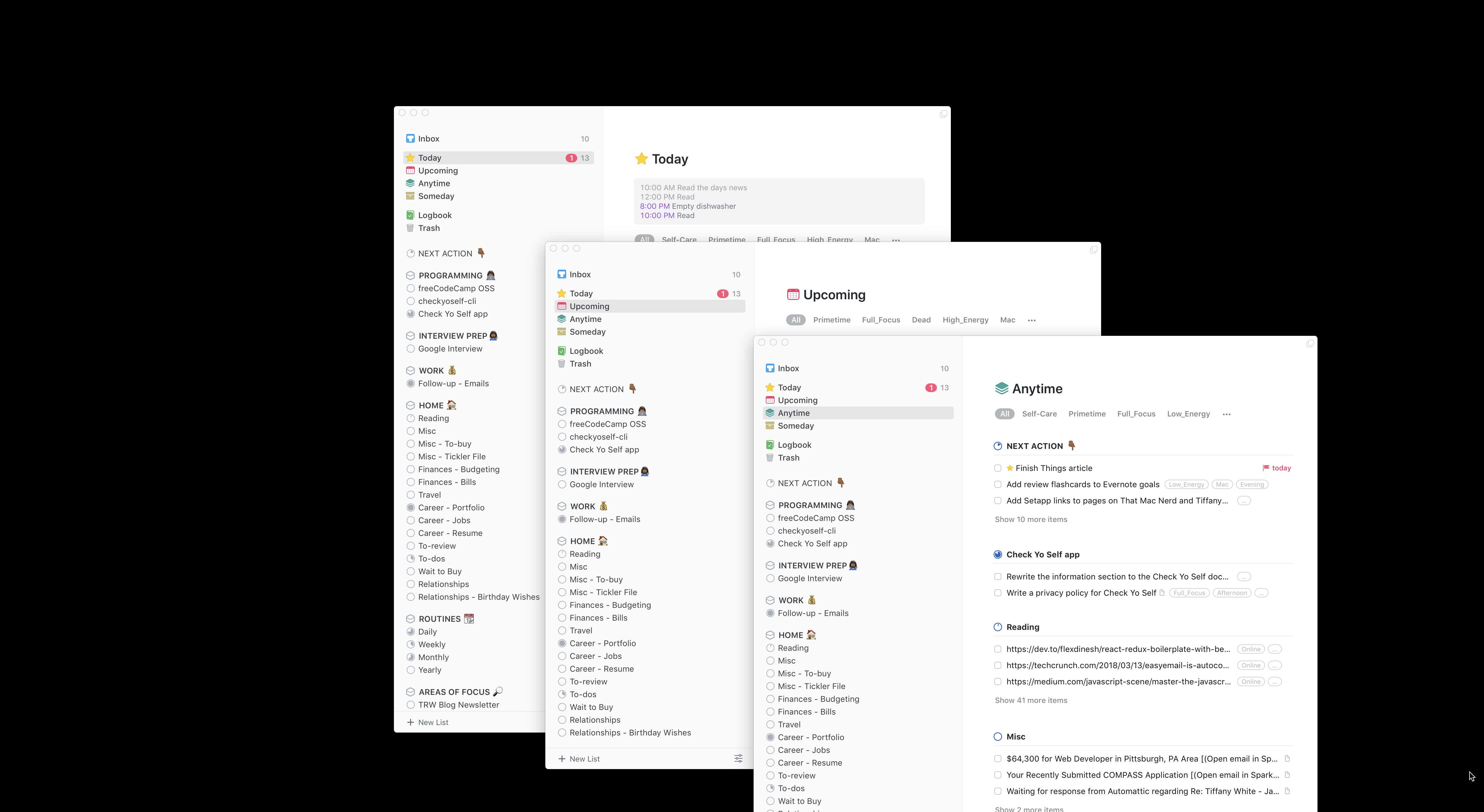 Working with Projects
Working with Projects in Things is a simple concept. You can have single projects with todos underneath that project. You can also have what Things calls Areas where Area is a collection of projects grouped together however you like.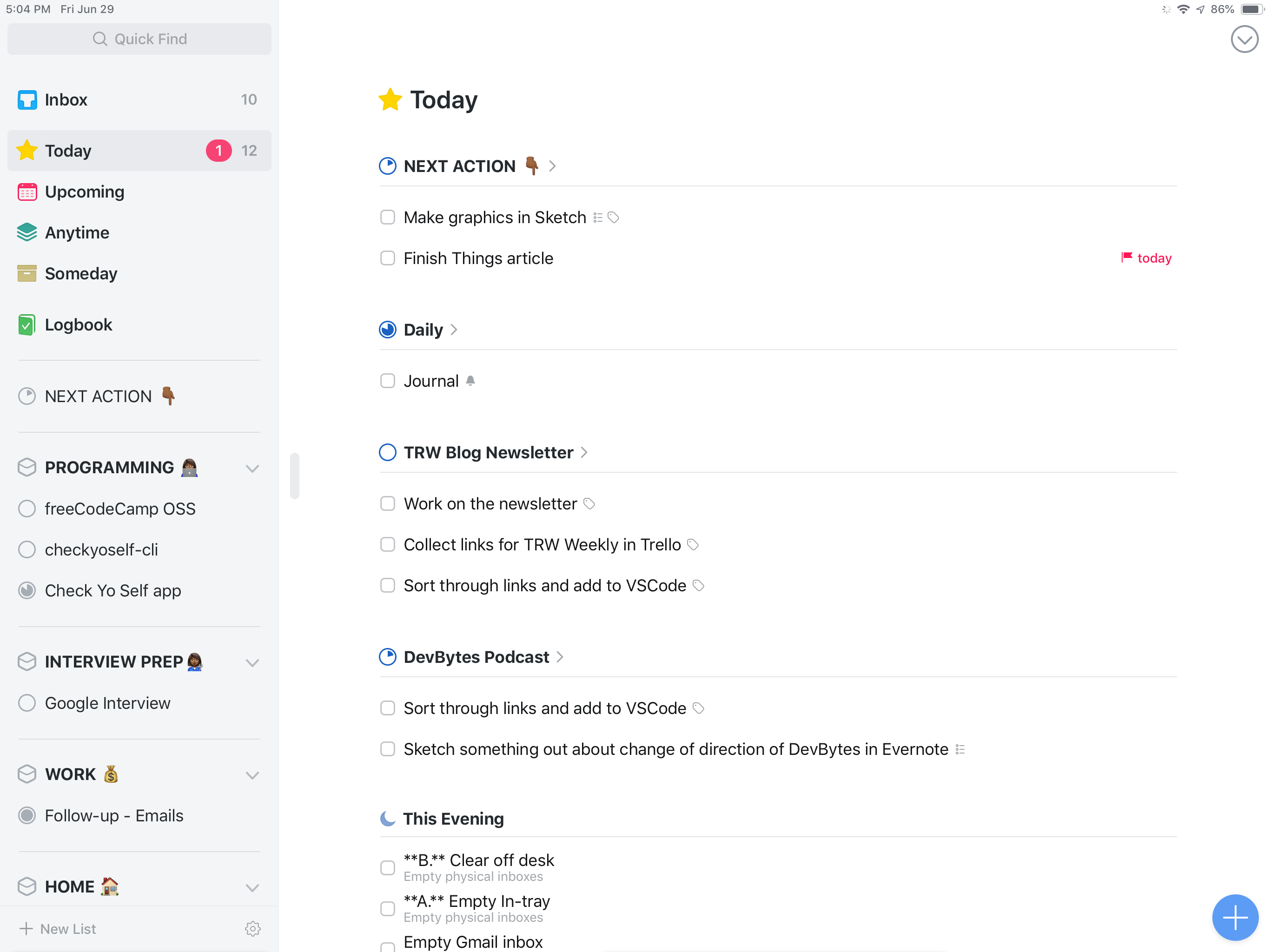 Much like adding a todo, you can add a project in Things by dragging and dropping:
You can also just tap the + button in the bottom right corner to add a new Project, Area or To-Do.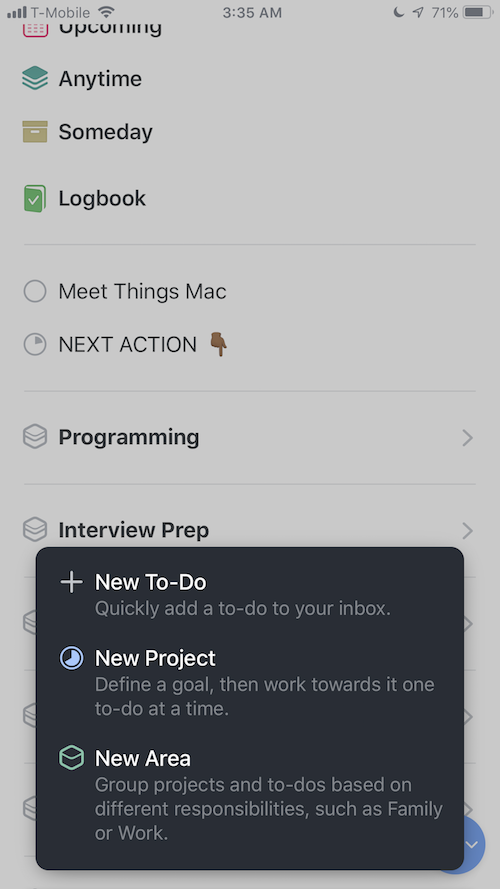 Tags and Scheduling
Much like Todoist, you can add what Things calls tags and what Todoist calls labels. You can have multiple tags on any item which is a nice feature and one that The Omni Group realizes is a critical feature of modern task management.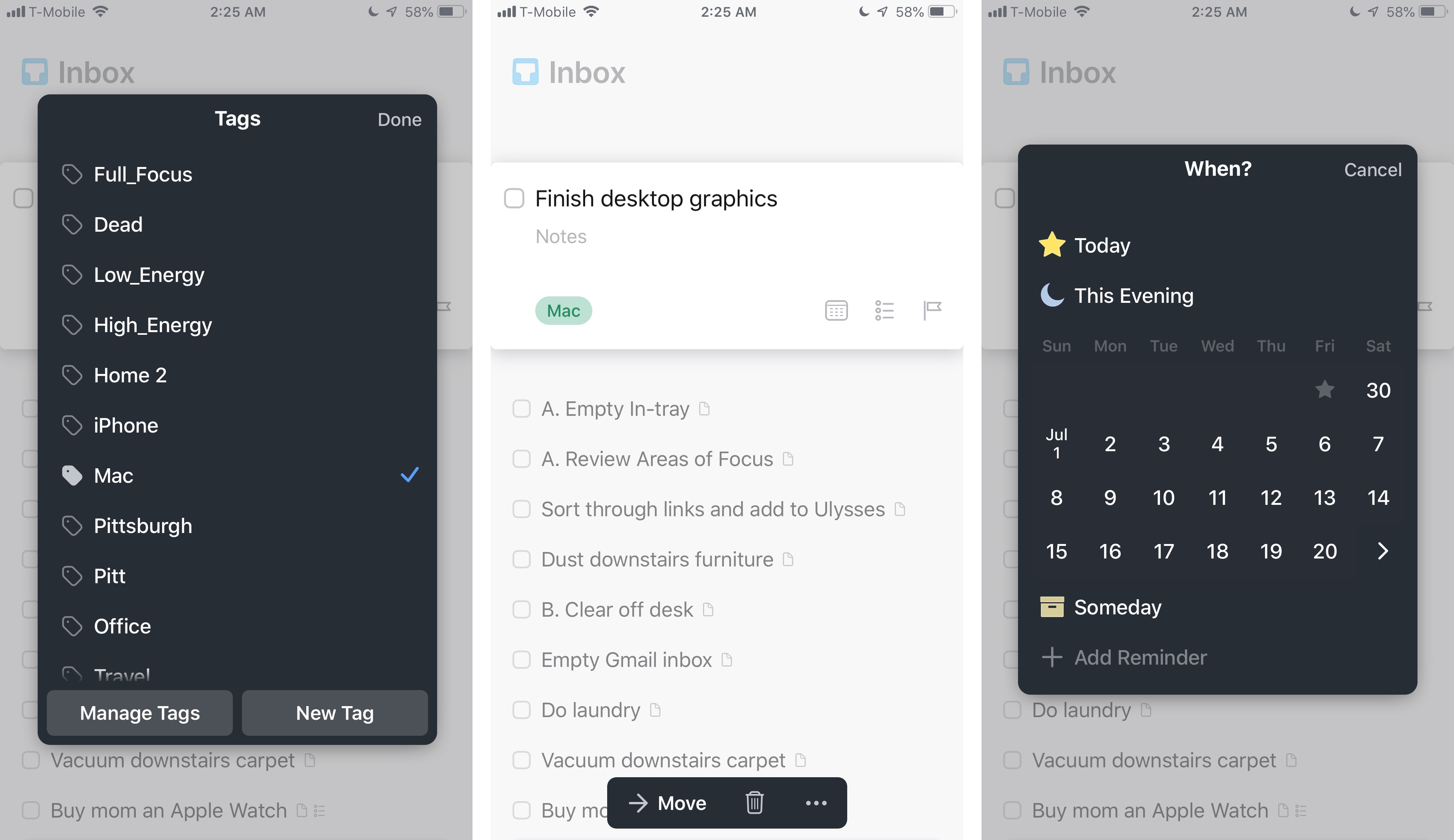 Gestures
I found the gestures for Things to be best-in-class as evidenced by the screencast below. Simply swipe left on a task to reveal a set of radio buttons and swipe down on those radio buttons to select. Genius.
The Apple Watch
The Apple Watch app is simple and fast. Todoist's Apple Watch implementation seemed like an afterthought not a companion product to their main app. It was slow and barely worked. Task managers on the Apple Watch should be lean and the Things 3 Apple Watch experience is one of the best you'll find on watchOS.
iPad Keyboard Shortcuts
For those working on the iPad, the latest update to Things has been heralded as a phenomenal productivity boost. The release notes below give an indication of what Cultured Code has delivered and will hopefully continue to deliver in the future3.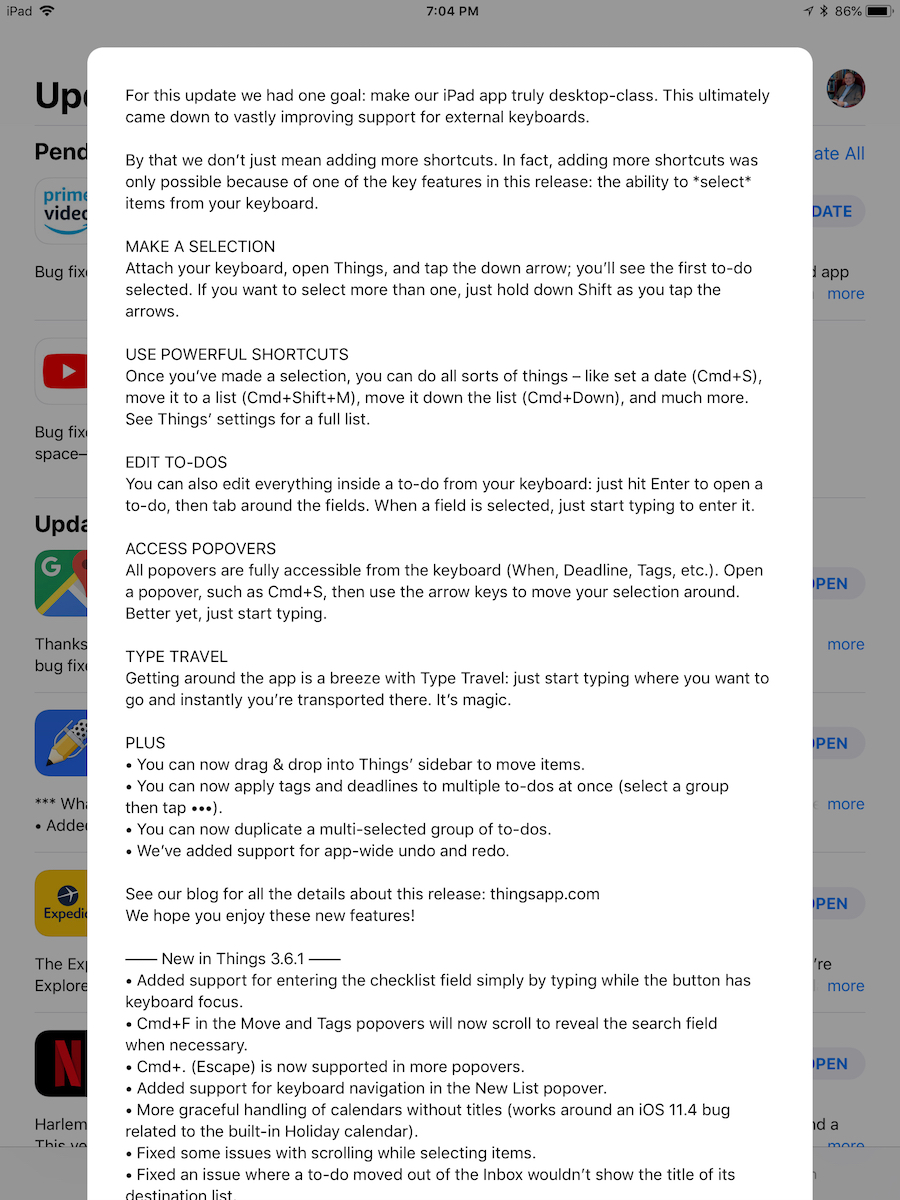 Well, not so new actually. Things had a v1 and v2 but this one is getting a lot of buzz in the Apple press. ↩

Trying not to do that but it's really hard. ↩

Cultured Code went an embarrassingly long time before releasing this iteration of Things. I see why now but if I am investing $80 in your ecosystem, I think regular updates and new whole updates should be a given. ↩
Sign up for my smart home Substack
I enjoy writing and want to do it more. Join me if you like smart home content.